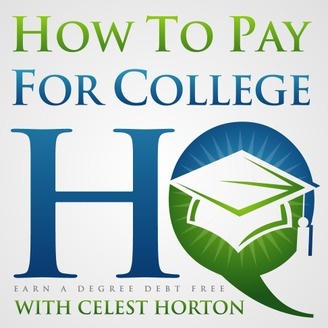 My name is Celest Horton and I am the mother of four children (three teenagers) who are quickly approaching college, with my oldest being a Junior in High School. My family and I have been saving for college for years, yet with the cost of education soaring out of control there is only enough saved to cover one year. The thoughts about paying for college became worrisome, especially since at one point three of my children will be in college at the same time.
Not one to shy away from a teachable moment, I decided to use this opportunity to start a family project. With that we have started an open dialogue with the kids about the rising costs of education so together we can work up a plan of action to figure out how WE are going to pay for college. Student Loans are not an option as it is something that can cripple their ability to be successful after graduation and would shackle them down to debt right out of the gate. No way!
The goal is for our four children to graduate from college DEBT FREE and so I began researching and asking questions of the industry experts. I soon realized that there must be other families out there in the same position and if I helped to get the information out then I could help ease their concerns too.
How to Pay for College HQ Podcast was created to educate others on how to pay for college without the assistance of loans. Every Wednesday I release a new episode comprised of an interview with an industry expert and we tackle topics to help families understand the steps required to plan and prepare for college and especially the financial aspects of college. The Podcast is a FREE resource and can be downloaded on iTunes or Stitcher Radio. The How to Pay for College HQ Podcast was launched the first part of September and maintained in the "New and Noteworthy" section of iTunes during the entire 8 weeks of its eligibility.
I was recently honored that ScholarEdge's own founder, Jason Lum, was one of my esteemed experts to be interviewed for the series. Jason shared so much helpful information with the audience. He tackled some common misperceptions and mistakes of college bound parents, of which I almost fell into myself prior to starting this journey.
If you too are looking for a top rated FREE resource to help plan and prepare for college then subscribe today and tune in every Wednesday for a new release. There are 14 episodes of great information to get you started, with Jason's episode (#14) released on 11/19.
Thank you and enjoy!
Celest Horton
Twitter: http://www.twitter.com/celesthorton
Facebook: http://www.facebook.com/howtopayforcollegehq.com
Google+: https://plus.google.com/+celesthorton
Website: http://www.howtopayforcollegehq.com


BACK